TimeOut New York - January 1st 2004

Don't Make Things - The Pleased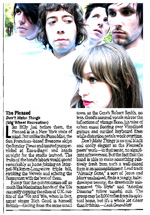 Like Billy Joel before them, the Pleased is in a New York state of mind. But unlike the Piano Man, the San Francisco-based fivesome skips the Sunday Times and toasted pumpernickel at Ess-a-bagel and heads straight for the studio instead. The fruits of the band's labors would sound remarkably at home joining an Interpol , Walkmen, Longwave triple bill, stroking the Velvets and echoing the Bunnymen with the best of them.
Funny that the quintet comes off so much like Manhattan bands of the '00s currently copping the ethos of UK outfits of the '70s and '80s, when in fact expat singer Rich Good is himself BRitish - hailing from the same small town as the Cure's Robert Smith, no less. Good's assured vocals mirror the inflections of vintage Bono, his tales of urban ennui floating over Vicodined guitars and curdled keyboard lines while distortion pedals work overtime.
Don't Make Things is as coal black and coolly elegant as the Pleased's peers work - in that sense, no significant achievement. But the fact that the band is able to make something relatively fresh from such a well mined form is an accomplishment. Lead track "Already Gone", a sort of Jeasus and the Mary unchained, finds a jangly, kaleidoscopic beauty, the drastically misnomered "No Style" and "Another Disaster" follow yuneful suit. The group may be 3000 miles from its spiritual home, but it's a whole lot closer than it thinks.
Leah Greenblatt