News Archives: 2004 | 2003 | 2002



2003 >>
Psychedelic Furs dates this week
Monday 15th December >> A west coast jaunt with The Psychedelic Furs is a nice way to see in the new year. Here's the basic info you need:

Fri 2nd Jan: Belly Up - Solana Beach
Sat 3rd Jan -The Viper Room - Los Angeles
Sun 4th Jan - Coach House - Santa Barbara

See more details about these shows here.

In other news; Don't Make Things is lurking (and has been for a few weeks) in the CMJ top 100 for college radio play. A few well-placed calls by yalls to your local college stations might give us the grand push into the vaunted Top 20. Thankee indeed!
Last Minute LA relief
Wednesday 19th November >> Two new shows just came up in the land of Tinsel:
Tuesday November 25th - The Viper Room - 10.30pm
Monday November 26th - The Wiltern with Placebo and Eagles of Death Metal
See more details here.

SF Show with the Darkness this week
Tuesday 18th November >> We playing a CD Release show at Popscene this Thursday 20th November - the evening will wind down with a spandex tight DJ set from the Darkness so there are really no excuses for absence.
Today is the day
Tuesday 4th November >> Our debut album Don't Make Things is now in stores everywhere. People are begining to hear it and write things - read articles here. Now please enjoy. Hear here.

This may be a good occasion to download a new wallpaper so that your computer fully understands the magnitude of the event. Click and save for large or small. For genuinely tiring holiday snaps from the east coast turn and face the screen here.

Photo © Annie Etheridge

Back in California
Wednesday 29th October >> After many overly exciting moments and far too much general enjoyment we are back in California. Thanks to all the beautiful people at our east coast Love shows, the floorspace donations, cab drivers, careful airporters, CMJ, that falafel place and whoever we met elsewhere... Pictures and new stuff coming soon. If you pre-ordered the Album here then its on its way now.

Love, CMJ, Pictures etc...
Monday 20th October >>This week we'll be playing two shows with Love and Arthur Lee in Alexandria, VA and New York City as part of the CMJ Music Marathon. Thanks to all the peoples, and the wonderfully exuberant 'Let Go', who visited the Magic Theatre this weekend. We very much enjoyed your company. Some new pictures from last weekend's video shoot have surfaced in the visual section.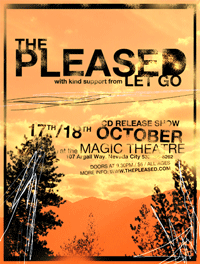 Out again
Monday 13th October >> A few shows coming up this week followed by some east coast dates next week. Here's the basics:
Fri 17th Oct: Magic Theatre, Nevada City, CA
Sat 18th Oct: Magic Theatre, Nevada City, CA
Tue 21st Oct: The Birchmere, Alexandria, VA
Thu 23rd Oct: The Warsaw, New York, NY
go here for details.
This weekend we shot a video for We Are The Doctor. Stay tuned for behind the scenes and news of where to see the video once all bells and whistles have been attached.
Last chance
Wednesday 15th October>> The San Francisco Weekly Music Awards has The Pleased nominated for Best Pop Artist of 2003. The ceremony is tomorrow; you can vote for or against here.
Wearing only black
Friday 12th September >> The San Francisco Weekly Music Awards has The Pleased nominated for Best Pop Artist of 2003. You can vote for or against here.
Filtered surprise
Thursday 28th August >> Filter Magazine has surprised us by choosing our upcoming album, Don't Make Things, as one of their picks of the week, alongside records by Bjork, Travis, and !!!. Thanks for the surprise, Filter. Also, you may want to cast a vote for someone here at the San Francisco Weekly Music Awards site... Finally, we are running dry of our second EP One Piece from the Middle. It will dissappear from existence this weekend. Don't Make Things is a far superior record and will be availble for pre-order soon but if you need the hand-built collectors item; now's the time.

Cat out of bag
Thursday 21st August >> Things have been a little quiet around here lately but its time to let the cat out of the bag: We have finished work on our new LP and are in the process of designing all the stuff that surrounds it. 'Don't Make Things' will be released throughout North America on Big Wheel Recreation on November 4th 2003. You can hear some sound from the LP here on the audio page. We will be visiting a town near you in the autumn to play some of the music on this release. More detail about all this soon. In the meantime if you are starved of pleased exposure then you may catch a recent glimpse of recording, eating and driving and in the visual section.
Tuesday 29th July >> Recording is complete. New music will arrive shortly. Keep your ears and eyes facing this screen. People in Japan can currently view a review of One Piece from the Middle in the gigantic Rockin' On magazine (September 2003 Issue).
Muted Information
Tuesday 15th July >> We are currently finishing off a new release for yous all. More on that later. Until then here is some audio stimulation by our mentor that you really should hear.
Can you imagine Stadium Rock?
Tuesday 22nd July >> We, the Pleased are currently taking a break from shows to finish off our next release - click here to send us morale-boosting love. more on that soon. But there is a chance of us wandering into the overly enormous Shoreline Amphitheatre in Mountain View, California, to open a Lollapalooza show on August 19th. If you fancy braving the masses to see our tiny faces then click here and vote.
New Vision
Friday 4th July >> Some new pictures of vans and sleeping on the visual page.
Credit / No Credit Tour turns in the keys
Wednesday 2nd July >> With the west coast dealt with we are now back in the studio recording never ending new stuff for yous all. We enjoyed very much to play for those who were apparent on the tour and you really should see and understand Aveo for their wonderous musical antics. Look out for new pictures and sounds from the tour soon.

Northern Legs
Thursday 26th June >> Thanks to the people of San Francisco, LA and Judd Nelson for making us so very welcome. Now we head up north for the rest of the week:

On Tour This Week
Sunday 22nd June >> We set off on tomorrow on a west coast tour with Aveo taking in San Francisco, Los Angeles, Chico, Portland and Seattle. You can discover the specifics here. We'll be placid, pining and parched so please come out and say hello. Recording is happening again in the secret studio so you'll have new ear fodder soon.
Tuesday 3rd June 2003 >> Prefix Magazine just published an interview with Noah. See it here. We are looking forward to seeing all yous tomorrow with GoldChains at Bottom of the Hill.

Thursday 29th May 2003 >> Thanks to all at Spaceland and Bottom of the Hill - you peoples are amazing in your random acts of kindness. We have some reports of a west coast tour hitting us right now. Go to shows to see what's happening. There's also a couple of new interviews appearing here; as if you didn't know enough about us already...
Monday 9th June >> The winds are taking us a short journey around the west coast later this month - we get to visit the northern states aswell as returning to Hollywood again for more best western hospitality and untamed hairpieces. We hope to see you - here's where to see us. We are back amongst the trees recording new things n pieces.
Gold Chains etc...
Wednesday 14th May 2003 >> We are happy to be helping San Francisco's finest Gold Chains celebrate his new record release party at Bottomof the Hill in June. Some new pictures for y'all in the visual section thanks to Amar.
Back Down South
Friday 9th May 2003 >> For those of you needing some urgent audio relief we are playing some dates up and down California over the next few weeks. Los Angeles opens its loving arms once again on the 20th for a show at Spaceland, then we are at Bottom of the Hill in SF with Calla on the 24th and then to mysterious Nevada City on the 29th. There may be a second LA show waiting in the wings so watch this space. Thanks to Kaitlin for the pictures fro mthe Great American last month.
Tuesday 29rd April 2003 >> A few more pictures surfaced in the Visual section. And here's one that Ami had to share with us. The enthusiasm displayed in Leeds last year. In other news, we invented some new songs on the weekend that bridge the gap between buffalo springfield, roxy music and playstation.
Wednesday 23rd April 2003 >> 'No Style' will appear on the upcoming compilation, 'Death Before Disco' on PrinceHouse Records, due out on May 20. Also on the comp are tracks from Gold Chains, The Pattern, and I Am Spoonbender, among others.

Joanna has returned from a successful little tour with Will Oldham, and she has brought Noah back with her. They bought a melodica in Tucson, and Jo, Noah, and Mr. Oldham sang Madonna songs with a girl on the streets of Flagstaff. Rock and Roll.

Friday 11th April 2003 >> As demanded by the people: a recent picture below. There are a few new pictures i the Visual section - more to come soon. The Pleased are back in SF next month and perhaps before - but for now please check out Joanna's tour schedule for the next few weeks at her Walnut Whales site.

- The Pleased at Great American Music Hall last night.
Thursday 10th April 2003 >> Thanks to all the fine peple who turned up to hang out in LA - we are forever in debt to your enthusiasm. And what about those Raveonettes?! We look forward to seeing more of you all tonight at the Great American Music Hall in SF.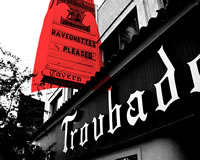 Briefly
Wednesday 2nd April 2003 >> It appears that the Troubadour show has sold out so it's down to your own methods if you fancy catching a peek of our first LA show. If that's not your style then get behind the wheel and scoot up to San Francisco for the show on thursday. We're bored with recording so we are ready to .. rock you as you can see from this recent picture.
new Motivation
Tuesday 25th March 2003 >> Some new recordings emerged from the studio this weekend. Go to the audio page to download some new music. If you want to hear these songs for real then we'll see you at The Troubadour, LA on 8th April and Great American Music Hall in San Francisco on 10th April. Find out more about those dates on the shows page. Here's a picture of Genaro recording...

Staircases etc.
Joanna is featured in this week's issue of the East Bay Express. Among other things, she talks about jelly beans and endless staircases. As you might imagine, the paper can be found in the East Bay as well as various record and book stores all over the place. Visit Joanna's site: walnutwhales.com

Recording
Monday 10th March 2003 >> Currently wearing headphones in the wee small hours at two different studios recording 4 new songs for your pleasure. Thank you to the people who were shopping in Virgin Megastore last week.

Hollywood Night
Sunday 2nd March 2003 >> We are descending the California coast in April to visit all the good people in LA. We have a show with The Raveonettes at the infamous Troubadour in Hollywood.
We have been featured in an article in Italy's Blow Up magazine. If you are fluent go here for more details: Blow Up!

Sunday 23rd February 2003 >> We've been wandering the hills playing around a bit so there could be some new things happening at the Noisepop / Virgin shows in San Francisco this weekend. We are also available to your ears in the bay area via a radio station called Alice. We are happy to be accompanying people to work on their Morning Show where we have been deemed Pick of the Week - please call in and request a tune if you are in the vicinity.

GREAT AMERICAN
Friday 7th February 2003 >> April will see us back at the Great American Music Hall for a show with The Raveonettes. They are cool. We are cool. You really should make the effort. Once again we are back in the studio. This time we are in Sacramento recording new versions of a couple of ancient recordings.
Some fine pictures here to be seen at Ami Barwell's site.

Wednesday 29th January 2003 >> Thanks to all those who made it out on Monday - you are truly the most attentive good looking people we ever did see - your ears are apreciated. Our condolences to anyone who couldn't get in. If you missed it - never fear; we are back at Bottom of the Hill in a couple of weeks. We also have an instore coming up at Virgin Megastore in San Francisco - come join us for a weird and wonderful experience. In the meantime we are recording more new songs for a change.

TONIGHT SOLD OUT
Monday 27th January 2003 >>The Bottom of the Hill show has sold out no thanks to the wonderful Walkmen and hot Hot Hot Heat - so its time to start looking menacing if you didn't get tickets already. See you there.

more new shows for 2003
Monday 20th January 2003 >> We have some new shows lined up for the end of January and through February. We'll have new songs, The Walkmen and Hot Hot Heat in tow... See you there. << Download Bottom of the Hill Flyer for your bedroom wall here: big / small

the name thing
Yes, you may have noticed several variations on The Please name recently. We have had some rather unfortunate business that has resulted in our newly modified moniker: The Pleased. Don't be down - its just a band name.

everything must change
Friday 10th January 2003 >> Things get old rapidly so here's a new colour scheme, some new music, pictures, peoples and stuff. Let us know what you like.